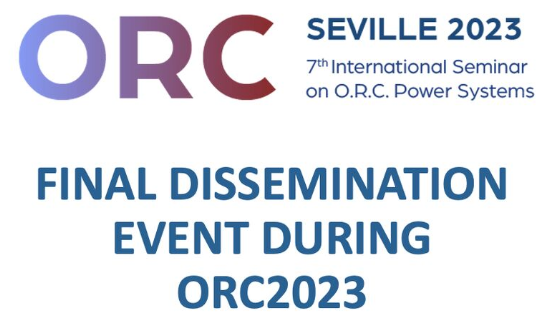 As the SCARABEUS project is reaching to an end, it is time to organise the final dissemination event in the form of an international conference. To this end, SCARABEUS has agreed to co-locate this event with the 7th International Seminar on Organic Rankine Cycle (ORC) Power Systems, held in Seville between September 4th and 6th.
The International Seminar on ORC Power Systems is organised biennially by the Knowledge Centre on Organic Rankine Cycle Technology – KCORC, the reference organisation for the dissemination of all information related to ORC technology research, development and education. KORC promotes the interdisciplinary knowledge exchange between dedicated international professionals from academia, industry, governmental agencies and policy makers, with the aim is to advance the research, development and implementation of ORC technology by means of providing relevant technical and scientific information, organizing technical conferences and workshops, fostering engineering education, and advising on proper regulation. The seventh edition of the conference is hosted by University of Seville, an SCARABEUS partner.
The SCARABEUS dissemination event will be held on Wednesday, September 7th, parallel to and jointly with the sessions of ORC 2023. This will facilitate exposure to a large number of stakeholders from different backgrounds, hence ensuring maximum outreach of the results. The event is comprised of technical presentations disclosing the main results obtained throughout the project in all the relevant scientific and technical areas as well as high-level presentations of related projects funded by the European Commission which can take exploit synergies with SCARABEUS.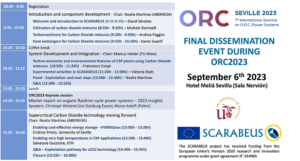 The event is sponsored by the European Commission and, hence, the registration fee is kept to a minimum, also giving access to the technical and keynote sessions of ORC 2023. More information about the event and how to register can be found on the conference website: Link
Do not miss this opportunity to interact with the consortium and get to know all the outcomes of the project!
https://www.scarabeusproject.eu/wp-content/uploads/2023/08/Foto_portada.png
332
544
jose
https://www.scarabeusproject.eu/wp-content/uploads/2019/07/SCARABEUS_Logo.fw_-1-300x73.png
jose
2023-08-01 10:09:01
2023-08-21 18:09:33
Final dissemination event organized by SCARABEUS