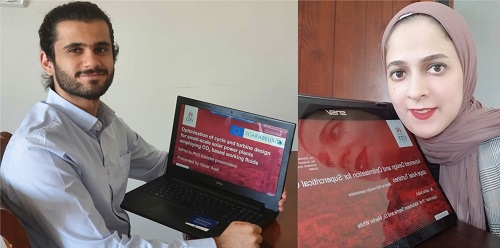 Researchers from City pass milestone on the route to PhD
Researchers from City pass milestone on the route to PhD
This week two researchers from the SCARABEUS research team at City, University of London, successfully completed their transfer from MPhil to PhD. This milestone, which has been completed just over a year since beginning at City, marks the successful transition from registration as a Master of Philosophy (MPhil) student to a full PhD candidate.
For the transfer, Mr Omar Aqel and Ms Salma Salah both prepared a technical report containing a literature review and an update on their work to date, and presented a 30-minute presentation over Microsoft Teams, followed by Q&A, to an internal audience of academics and researchers from City.
Mr Omar Aqel presented his report entitled "Optimization of cycle and turbine design for small-scale solar power plants employing CO2-based working fluids". Within Omar's work he has investigated the effect of candidate dopants on optimal cycle conditions within CSP applications, with a particular focus on the expansion process. Results highlighted the change in working fluid properties such as molecular weight, speed of sound, density, and the adiabatic coefficient. Having also explored the sensitivity of turbine design to dopant type and amount, Omar will now focus on the application of CO2-based working fluids in small-scale power plants. He aims to investigate their feasibility using an integrated system approach which accounts for turbomachinery design restrictions that are unique to small-scale installations.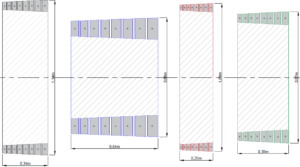 Ms Salma Salah presented her report entitled "Advanced design optimisation methods for supercritical CO2 multi-stage axial turbines". Within Salma's work she discussed the various aspects of axial turbine design including design methodology, previous preliminary and computational fluid dynamic (CFD) studies on sCO2 turbines, in addition to existing prototypes and conceptual designs for sCO2 turbomachinery. In this work, 100 kW and 100 MW design models have been developed and a parametric study has been conducted to examine the effect of various design parameters on the performance of a small-scale sCO2 turbine. This work was concluded by detailing the future steps for her research.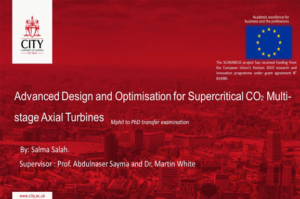 https://www.scarabeusproject.eu/wp-content/uploads/2020/09/image001pequeña.jpg
248
500
jose
https://www.scarabeusproject.eu/wp-content/uploads/2019/07/SCARABEUS_Logo.fw_-1-300x73.png
jose
2020-09-10 12:37:28
2020-09-10 12:41:00
Researchers from City pass milestone on the route to PhD