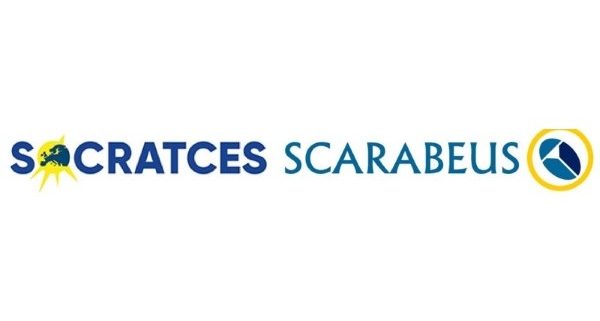 The SCARABEUS consortium has organised a dissemination day to take place at University of Seville on April 22nd 2020. Co-located with the second progress meeting of the project, this dissemination day will be comprised of two activities: Networking Session on key enabling Concentrated Solar Power technologies in the morning, and Seminar on modelling and simulation of CSP plants in the afternoon.
The Networking Session is co-organised by the SCARABEUS and SOCRATCES consortia, both projects funded by the European Union's Horizon 2020 research and innovation programme (sub-programme H2020-EU.3.3. addressing Societal Challenges concerning secure, clean and efficient energy. SOCRATCES makes use of calcium-looping technology to open a new pathway for next generation energy storage in CSP tower plants, technologically feasible, economically viable and sustainable. SCARABEUS relies on blended supercritical Carbon Dioxide used as the working fluid of a new generation of more efficient power cycles tailored to CSP tower plants, enabling a drastic reduction of installation and electricity costs.
The first panel in the Networking session reunites high-level representatives of the scientific community, industry and government. The speakers will share their view on the technology gaps to be filled and the foreseen industrial and legislative framework that will be needed to enable a massive deployment of renewable technologies. In the second panel, the coordinators of SCARABEUS and SOCRATCES will introduce the projects and talk with the audience about their main characteristics and objectives.
In the afternoon, the partners of SCARABEUS have organised a seminar covering the fundamentals of how to model the performance of Concentrating Solar Power plants using tower (central receiver) technology. The seminar will also include a module on Environmental Life Cycle Assessment, which is a critical aspect of any power generation technology.
Information about registration for these events (free of charge) and a final Agenda will follow soon!
https://www.scarabeusproject.eu/wp-content/uploads/2020/02/SOCRATCESfinal3.jpg
375
600
jose
https://www.scarabeusproject.eu/wp-content/uploads/2019/07/SCARABEUS_Logo.fw_-1-300x73.png
jose
2020-02-10 18:05:14
2020-02-12 16:28:07
April 22nd: Save the date for the SCARABEUS dissemination day at University of Seville!